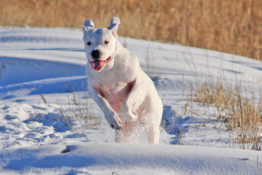 7 years ago our Argentine Dogo was diagnosed with severe hip displasia. After much research we found out the raw diet was best for keeping inflammation at bay. We made the switch and have never regretted it. She is still active and drug free. Thanks Perfectly Raw for making the transition a positive one.

Fern & Tom, Headingley, MB
Photo taken Oak Hammock Marsh, Xmas morning 2011.