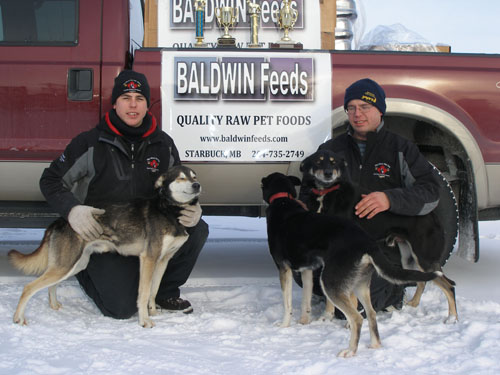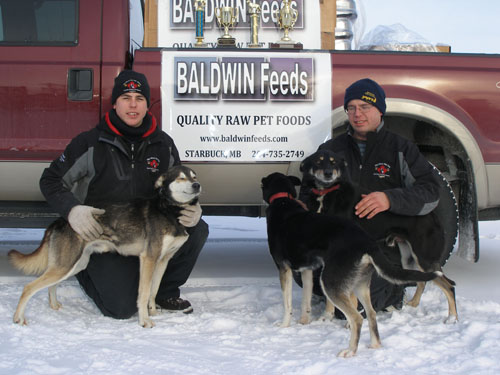 World Championship Dog Team
"Sled dogs need top-quality feed for stamina, endurance, strength and speed, so they can perform to the best of their ability. Perfectly Raw™ provides essential protein and nutrient rich, power-packed fuel for our dogs – and the results are clear."
Robbie & Chris Turner, winner of the 6 Dog Class, The Pas World Championship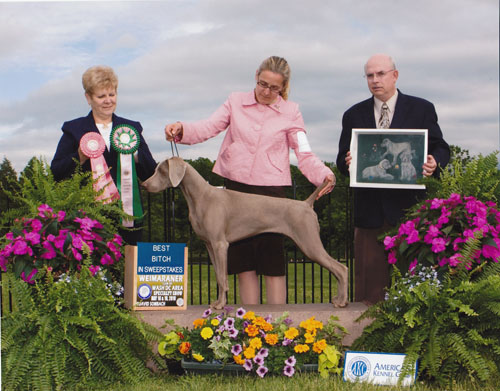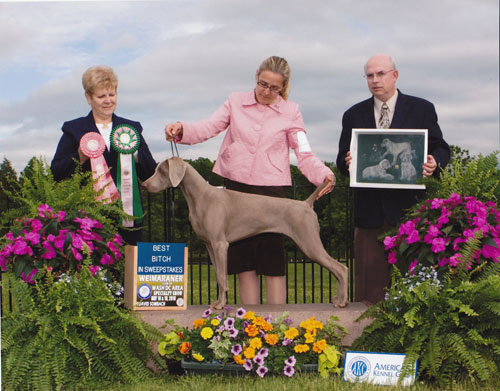 P!nk, Championship Weimaraner
"P!nk", her great-great-grandmother "Taylor" and all our household Koping Weimaraners have benefitted from a Perfectly Raw™ diet. They love the Pro Fish Mix for the variety it adds to their diets. Whether looking pretty in the show ring or playing rally and agility or tracking, a Perfectly Raw™ diet gives them the brains & brawn to be competitive."
Patricia Kopec, Koping Weimaraners, Calgary, Alberta
Canada's Top Agility Cavaliers
"We have been very pleased with the Baldwin Perfectly Raw™ products being used in our Cavalier diet.   Their products have been excellent in providing the energy needed for performance sports.  I have been feeding raw food for 15 years, and the results are clear.
Ch. Dawnaquinn Dark Star RE, AgXS, AgXJS, XAP, XJP, NFP, MADC
2009 & 2010 Niles is #1 CKC Agility Cavalier In Canada, he is also a Canadian Conformation Champion.
Am. Can. Ch. Dawnaquinn Clark Gable AgXS, AgXJS, OAP, NJP, NFP, MADC
2009 & 2010 Clark is #2 CKC Agility Cavalier In Canada, he is also an American and Canadian Conformation Champion.
In the Agility Association Of Canada, both dogs were awarded the Masters Dog of Canada Award which is their highest level. Niles also has his American Kennel Club Agility Excellent title as well as his Rally Excellent title in Canada."
Wendy Maisey, Calgary, Alberta, is a CKC Approved Conformation Judge for Best In Show, Sporting, Working, Toy, Herding Groups and Provisional for the Non-Sporting Group.
Preserving Canada's Dogs
The Canadian Eskimo Dog Foundation is the oldest and largest kennel in the world. For the preservation of this near extinct breed, we rely on an 80% diet of Perfectly Raw™ products, more than 2000 lbs each week. Pound per dollar, dollar per pound, Perfectly Raw™ is the best around. Thank you for 3 decades of generous support!
Brian Ladoon, Founder, Canadian Eskimo Dog Foundation
Our Lennox, Best in Show
"I started feeding Perfectly Raw food to my dogs about 2 ½ years ago and couldn't be happier with the results – rock solid, healthy immune systems and exteriors to match. I am so lucky that I have access to wonderful, safe products from a trustworthy company. Seeing the proof in my own dogs, I will never change back to dry food again. Thank you Baldwin Feeds for making my dogs healthy, and for making them, and their taste buds, OH SO HAPPY!!!"
Jill Klassen, Jill's Canine Design, Manitoba

Severe hip displasia
7 years ago our Argentine Dogo was diagnosed with severe hip displasia. After much research we found out the raw diet was best for keeping inflammation at bay. We made the switch and have never regretted it. She is still active and drug free. Thanks Perfectly Raw for making the transition a positive one.
Fern & Tom, Headingley, MB
Photo taken Oak Hammock Marsh, Xmas morning 2011.